Jacksonville, FL. Doug Marone, Blake Bortles and Telvin Smith met with the press today. The Jaguars owner, Shad Khan also made some news.
We'll address The Khan news first, then Marrone presser.
Below is his statement, but what he doesn't say is the Football Association's 10-member board and 127-member council are out of touch with reality. What they want, is leaving the FA behind. Which can be witnesses from them not winning a championship since the 1990's.
Reports suggest that the dissenting voters believe that having American Football gain traction in Great Britain would hurt the FA. Their belief is they can do a better job at keeping Wembley a thriving entity under their direction.
Obviously, they have no clue how Mr. Kahn can meld the traditional with cutting edge technology and produce a better product. Their loss.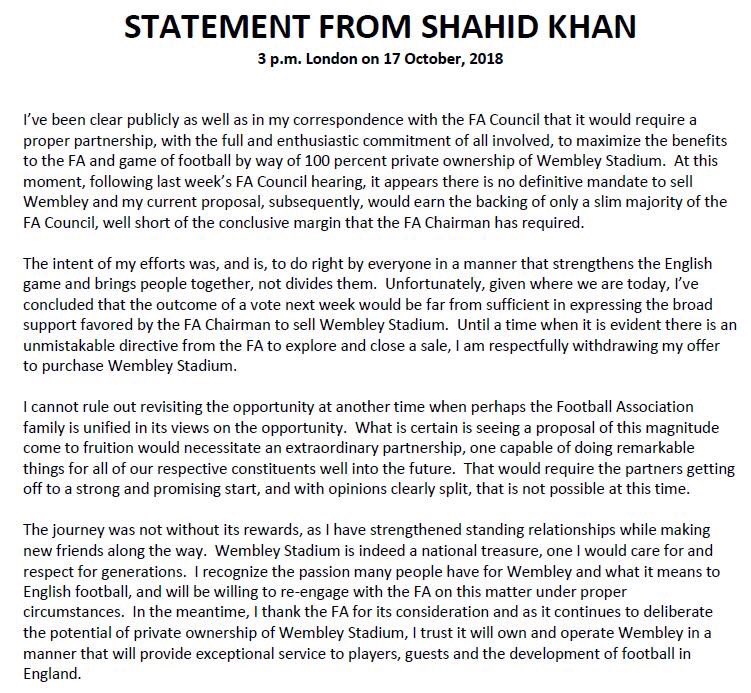 Knee jerk reactions in Jacksonville vary from – yay, no chance now the Jaguars are moved to England, to boo, this means the Jaguars won't have an extra revenue stream and could end up leaving Jacksonville without a pro team.
There is also fear that some other NFL owner will put in a bid for Wembley or another city will build a stadium and snatch the Jags away.
Here are my thoughts on the above
I would say that the chance the Jaguars are moved overseas will always be a back burner option until the team is able to consistently have season tickets sold out and a full stadium. Wembley or no Wembley. Roger Goodell decides this, anyway at the behest of the owners association.
The potential revenue stream from having Wembley, is just that – potential. Until some team is housed there permanently, the continued extra 15% stream continues because the Jags are still the number team with the fans, and that continues to grow.
The potential stream from owning Wembley can be made up, if the downtown plans go through. "The Cordish Companies' entertainment districts operate successfully in major cities throughout the U.S., and are the most visited destinations in their respective regions, attracting more than 50 million people each year." Their place in Louisville, KY attracts more than 4.5 million a year. That's a lot of moola.
Has anything been written or said that indicates that Khan had buying Wembley as part of his package when buying the Jags? As in, he factored in that revenue as part of the financial picture? If not, then this was an added bonus and not contingent on keeping the Jaguars in Jacksonville. Not to mention, where the Cordish companies build, are mostly around a professional sport. Whether it's football, soccer, bull riding, baseball. The exceptions are on the ocean.
Another NFL owner isn't going to buy Wembley as long as the same elitist mentality continues with the FA. Unless their older voters start dying out and are replaced with younger thinkers, no one else as a chance.
Would adding Wembley bring in more revenue? Yes. Would it impact whether or not the Jaguars stay in Jacksonville? Probably not unless the Shipyard hits some major snags. Either way, the only thing residents of NE Florida can do is buy tickets and show up.
---
Moving on to Doug Marrone. He thinks the team has played like shit, that the coaches (pointing to himself first) need to do a better job at focusing on the fundamentals. He believes being 3-3 sucks, but sees it as a good thing because it's a challenge.
Having a couple of weeks of losing builds a team and tests their mettle – he sees how they can bounce back. What was missing from his words was how they're going to address the weaknesses on offense. Neither Leonard Fournette or TJ Yeldon practiced today. The Jaguars are now down their starting tight ends and the Oline is beat up.
More questions and answers were about the defense; however, I don't care if they're playing lights out, the offense still needs to score points.
Blake Bortles thinks that when injuries happen, it's up to the QB to make up for them. He also mentioned the bad luck that seems to run with this team and also why they may be last in the differentials. The ball seems to bounce the wrong way. Even so, they need to get back to being the team they know they are.
When he addresses the injuries to the team he said they're limited on the plays they can run because of them. Even so, they need to find ways to be effective. He also said that scoring early happened in the games they won.
Linebacker Telvin Smith said when it came to the defense getting the ball back, they weren't causing other teams to make mistakes, which is where turnovers come from. They did better against the teams without running quarterbacks, which they know needs to be fixed. Smith believes they're fine and will overcome the injuries.
"Stay steadfast, stay committed to us"
Smith was steadfast himself in believing no one has given up. He said he's seen it before from years past in Jacksonville and that's not in the locker room. They've faced lot of adversity, but they're over coming it. The bad communication over the last couple weeks will be fixed during practice.
One thing that came across from the three was a difference in attitude. They acted as calm firemen who already put a fire out, but they couldn't avoid the soot.